At Kay Harris Chiropractic & Wellness Centre, we take great pride in providing the finest chiropractic wellness care to our patients. Below is a sampling of the different chiropractic services we offer in our London office.
---
Chiropractic Care
Nutritional Counseling
Corrective Exercises
Spinal & Postural Screenings
Custom Orthotics
Lifestyle Advice
Chiropractic Care
We provide advanced spinal correction utilizing state-of-the-art chiropractic techniques. Never in the history of chiropractic have we been able to provide the level of help and expertise that now exists. These newer correction methods are even safer, more comfortable and more effective than ever before. As Doctors of Chiropractic, Dr. Kay and Dr. Harris have years of training and experience in the art and science of spinal adjusting.
---
Pediatric & Family Chiropractic
Your child's brain and nervous system controls everything in their body, including their growth and development. The nervous system is known as the "Master Control" system of your body. So let me ask you a question.....how important is it that your child's nervous system is functioning as close to optimal as often as possible? If you are like most parents you have answered "very important"!
Our office is focused on checking your child's spine and nervous system through sophisticated technology enchanted assessments to determine how well your child's spine and nervous system are functioning. And in case you were wondering if chiropractic care is needed for your child...it is gentle, very safe and effective.
---

Corrective Exercises

We teach our patients special "blueprint" exercises designed just for them to help strengthen and correct their own unique problem. These exercises can be performed in the comfort of your own home and can improve the effectiveness of your spinal correction by as much as 30-40%. In addition to skeletal misalignment, muscles and connective tissues can be out of place or strained by improper alignment and use. Specific exercises and stretches can help your body stay in balance and in health.
---

Lifestyle Advice

We often find it helpful to "coach" our patients on certain activities they should avoid or do differently to avoid aggravating their particular health challenge. Our goal is to help every patient achieve a fulfilling and happy lifestyle full of the activities they enjoy most. We recognize that each our patient is a whole person, and help them reach true health and wellness is a collaborate effort between our professionals and our patients.
---

Nutritional Counseling

We provide specific recommendations on nutritional supplements and healthy food choices to enhance our patient´s return to optimal health. Do you know which supplements and vitamins are good for you? Dr. Kay and Dr. Harris can provide a structured nutritional program based on your individual needs.
---

Spinal & Postural Screenings

Posture and spinal screenings can reveal important health information and unlock the door to improved health and well-being. We provide screenings at area malls, community events, health fairs and places of employment. Contact us today to arrange a screening at your event or workplace.
---
Registered Massage Therapy
To complement and enhance the healing effects of Dr. Harris and Dr. Kay's specific Chiropractic adjustments, we at Kay Harris Chiropractic & Wellness Centre also provide massage therapy.
The practice of massage therapy is the assessment of the soft tissue and joints of the body and the treatment and prevention of physical dysfunction and pain of the soft tissue and joints by manipulation to develop, maintain, rehabilitate or augment physical function, or relieve pain. Massage therapy has endless applications, from facilitating tissue health to increasing well being and health potential.
Massage Therapy helps alleviate the soft tissue discomfort associated with everyday occupational stresses, muscular over-use and many chronic pain conditions. If employed early enough after accidents involving trauma and injury, massage therapy can greatly reduce the development of painful muscular patterning.
Benefits of Massage:
relieves aching muscles and joints
soothes nerves
reduce stress and tension
ease anxiety
increases range of motion and flexibility
alleviates fatigue
relieves muscle spasms and tension headaches
strengthens the immune system
improves the functioning of the digestive system
increases energy levels
---
Custom Orthotics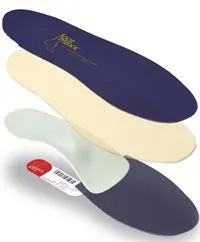 Foot pain is not normal and should not be ignored. The presence of foot problems can affect the proper functioning of other parts of the body, including the hip, knee and back.
Custom-made orthotics can provide relief for many different types of foot pain including heel pain and plantar fasciitis; arch pain; pain caused by bunions, an injury or a sprain; pain caused by running, walking and sports; pain related to diabetes; and pain experienced by senior citizens whose feet change as they grow older. Foot orthotics do not actually correct foot or ankle problems, such as fallen arches. However, orthotics can reposition the structures in the foot to optimize biomechanical function and reduce the chance of injury.
---